Destinations From Anchorage
Use the interactive map below to explore a few of our popular training destinations.
Downtown Anchorage
Anchorage and the Chugach Mtns
Anchorage Performing Arts Center
The Coastal Trail
A warm Alaska summer day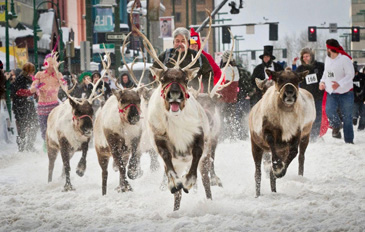 Fur Rendezvous Festival
The Anchorage Skyline
The Goose Hangar
Anchorage, Alaska: Home of The Goose Hangar
In the heart of Southcentral Alaska on the shores of Cook Inlet and sitting in the shadow of the Chugach Mountains, Anchorage is the State's largest city (pop. 300,000) and is the gateway to world-class wilderness, wildlife viewing, fishing, hunting, and has easy access to other one of a kind summer and winter adventures.
N703 and The Goose Hangar are located at the Lake Hood Seaplane Base in Anchorage, near the North Ramp, less than a mile from the airport terminal.
The Alaska Range
Near Denali
The Alaska Range
Ruth Glacier
Alaska Range/Denali National Park
The Alaska Range is a mountain range of majestic, jagged peaks, one of them being Mount McKinley/Denali--the highest mountain peak in North America--and is the centerpiece of Denali National Park. This is a breathtaking trip to fly through one of the rugged mountain passes to the remote lakes on the far side of the range.
This flight training incorporates excellent mountain-flying time that offers a great view of the Alaska landscape, peaks, and glaciers, as well as landing at some truly beautiful lakes.